Jeff Francoeur's time with the Philadelphia Phillies is officially over. The fan favorite is headed back to Atlanta after signing a minor league contract with an invitation to Spring Training earlier today. Francoeur, 32, hit .258 with 13 home runs and 45 RBIs in his only year in red pinstripes. Francoeur, an Atlanta native, was drafted by the Braves in the first round of the 2002 MLB Draft.
Jeff Francoeur's time with the Phillies may have been short but they were exciting. He was one of the few bright spots in an otherwise dark year. Here are just some of the many moments that landed Jeff Francoeur in the hearts of the Philadelphia faithful:
Who could ever forget this little debacle in right field? Normally a player would be criticized for this…not Jeff. 
Francoeur fit in perfectly with the Phillies' bullpen
…Maybe a little too perfect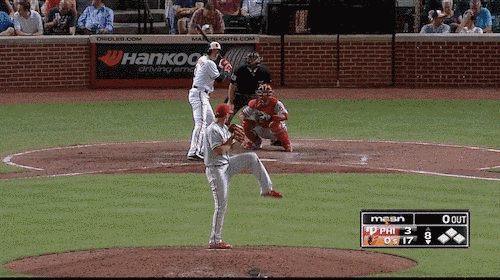 It's going to be hard to replace this arm…
Or the walk offs…
Or his antics
(GIF credit/MLB.com)